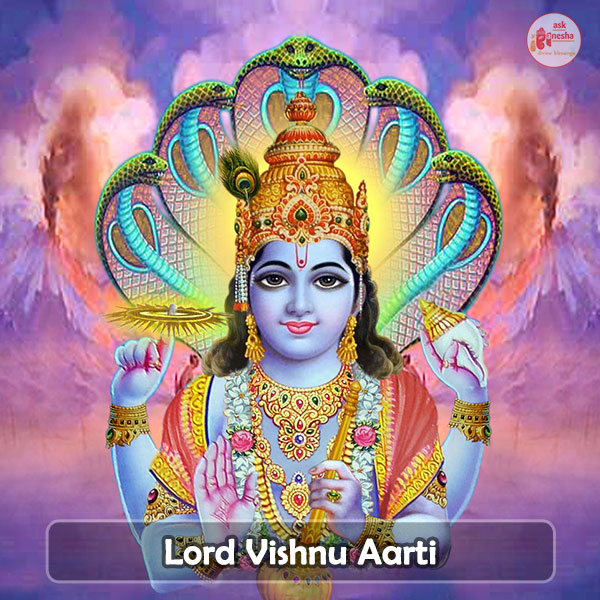 About Lord Vishnu Aarti
Lord Vishnu can easily be described as the most important lord of the Hindu Trinity. In the northern India, you have Meera, the sincere devout singing poignantly to the lord Vishnu, Hari tum haro man kepid. Meera appeals Vishnu as Hari. "O Hari, the remover of all sorrow, come bless me", she pleads. When you look to Southern India you will find Andal, singing the Thirupavai again in praise of Lord Vishnu as Narayana.He is one of Lords of the Hindu trinity and is highly regarded by the Hindu devotees.
|| Aarti ||
Om jai Jagdish hare, Swami jai Jagdish hare,
Bhakt jano ke sankat Dass jano ke sankat, Kshan mein door kare,

|| Om jai Jagdish hare... ||

Jo dhyave phal pave, Dukh bin se mun ka, Swami dukh bin se mun ka,
Sukh sampati ghar aave, Kasht mite tun ka ||

|| Om jai Jagdish hare... ||

Maat pita tum mere, Sharan gahu mein kiski, Swami sharan gaho kiski,
Tum bin aur na dooja, Aas karun mein jiski ||

|| Om jai Jagdish hare... ||

Tum puran Parmatma,Tum Antaryami, Swami tum Antaryami,
Par Braham Parmeshwar, Tum sabke swami ||

|| Om jai Jagdish hare... ||

Tum karuna ke sagar, Tum palan karta, Swami tum palan karta,
Mein sevak tum swami, Kripa karo Bharta ||

|| Om jai Jagdish hare... ||

Tum ho ek agochar, Sab ke pranpati,Swami sab ke pranpati,
Kis vidh milun Dyamaye, Tum ko main kumti ||

|| Om jai Jagdish hare... ||

Deen bandhu dukh harta, Tum rakshak mere,
Apne haath uthao, Dwar pada tere ||

|| Om jai Jagdish hare... ||

Vishay vikar mitao, Paap haro Deva,
Shradha bhakti badao, Shradha prem badao, Santan ki seva ||

|| Om jai Jagdish hare... ||
|| Aarti in Hindi ||
जय जगदीश हरे, प्रभु! जय जगदीश हरे,
भक्तजनों के संकट, छन में दूर करे ||

|| जय जगदीश हरे ||

जो ध्यावै फल पावै, दु:ख बिनसै मनका,
सुख सम्पत्ति घर आवै, कष्ट मिटै तनका ||

|| जय जगदीश हरे ||

मात-पिता तुम मेरे, शरण गहूँ किसकी,
तुम बिन और न दूजा, आस करूँ जिसकी ||

|| जय जगदीश हरे ||

तुम पूरन परमात्मा, तुम अंतर्यामी,
पार ब्रह्म परमेश्वर, तुम सबके स्वामी ||

|| जय जगदीश हरे ||

तुम करुणा के सागर, तुम पालनकर्ता,
मैं मुरख खल कामी, कृपा करो भर्ता ||

|| जय जगदीश हरे ||

तुम हो एक अगोचर, सबके प्राणपति,
किस विधि मिलूँ दयामय, तुमको मैं कुमती ||

|| जय जगदीश हरे ||

दीनबन्धु, दु:खहर्ता तुम ठाकुर मेरे,
अपने हाथ उठाओ, द्वार पडा तेरे ||

|| जय जगदीश हरे ||

विषय विकार मिटाओ, पाप हरो देवा,
श्रद्धा-भक्ति बढाओ, संतन की सेवा ||

|| जय जगदीश हरे ||
Vidhi for Performing Aarti:
The things required to conduct the Aarti include: flowers, bell, incense stick, dhoop batti, a copper lota, Diya along with oil and batti. Begin with lighting the diya in front of the god's idol. Then light the incense sticks and begin the Aarti as you ring the bell continuously, followed by offering the flowers and rice to the lord. You can keep some fruits as the Prasad, to distribute after the Puja.
A fast must be observed to appease the lord. You can perform the Aarti in the temple or your house and later on offer food to Brahmins.
Benefits of Performing Lord Vishnu Aarti:
The Lord Vishnu is the creator of the world. Everything that exists is created by him. The Vishnu aarti helps the devotees to attain a long and hassle free life. A person who conducts the Vishnu puja and performs the Aarti is capable of attaining Moksha and salvation in the after-life. God smoothens the life of his devotees by providing them with mental and physical relief and a happy and harmonious life.