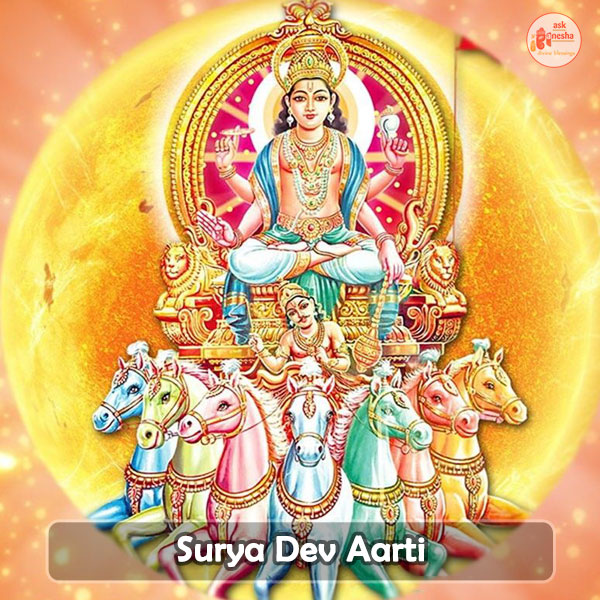 About Surya Dev Aarti
Sun (Surya) has played a very significant role in Hindu mythology and amongst Hindu gods. Surya is one of the three chief gods of the Vedas. As one of the planets, the physical sun is the celestial form of fire (Agni) and source of all life. SURYA is at the centre of all the planets. Above it is the esoteric spheres of the Supreme Ruler and below it, is the manifest spheres of the moon and the earth.
|| Aarti ||
Jai Jai Jai Ravidev Jai Jai Jai Ravidev,
Rajanipati Madhaari Shatlad Jeevan Daata,
Patpad Mann Madukaari Hey Dinmann Daataa,
Jag Ke He Ravidev Jai Jai Jai Swadev ||

Nabh Mandal Ke Vaani Jyoti Prakaashak Deva,
Nijjan Hit Sukhraashi Teri Hum Sab Sevaa, Karte Hai Ravi Dev Jai Jai Jai Ravidev ||

Kanak Badan Man Mohit Ruchir Prabha Pyari,
Nit Mandal Se Mandit Ajar Amar Chavidhaari, Hey Survar Ravidev Jai Jai Jai Ravidev ||
|| Aarti in Hindi ||
जय जय जय रविदेव जय जय जय रविदेव,
रजनीपति मदहारी शतलद जीवन दाता,
पटपद मन मदुकारी हे दिनमण दाता,
जग के हे रविदेव जय जय जय स्वदेव

नभ मंडल के वाणी ज्योति प्रकाशक देवा,
निजजन हित सुखराशी तेरी हम सब सेवा,
करते हैं रविदेव जय जय जय रविदेव
कनक बदन मन मोहित रुचिर प्रभा प्यारी ,
नित मंडल से मंडित अजर अमर छविधारी ,
हे सुरवर रविदेव जय जय जय रविदेव
Vidhi for Performing Aarti:
The Surya Aarti should be ideally conducted on a Sunday. If a fast is been kept it will give double benefits. Begin the day with Surya Namaskar. The things required for the Aarti include roli Akshat, uncooked rice, Puja ki Thali, Flowers, Dhoop Batti, Incense stick, Photo or Idol of Lord Surya, A Red cloth, Aasan, Supari, Coriander seeds, Cotton seeds, Lotus Flower Seeds, Dry whole Turmeric, Silver coin, Some sweets as Prasad, and lotus seeds. Begin with lighting the diya in front of the goddess's idol. Then light the incense sticks and begin the Aarti as you ring the bell continuously, followed by offering the flowers and rice to the lord. You can keep some fruits as the Prasad, to distribute after the Puja.
Benefits of Performing Surya Dev Aarti:
The benefits of worshiping the Surya Lord include fame, good relations with family members especially father. Surya, when beneficial can help groom one's appearance and cure Leprosy. Surya is widely worshiped by Hindus, on the basis of the belief that Lord Surya is the only visible form of God.
Also, if a person is accused with false blames and allegations, worshiping Surya will be extensively beneficial. The Sun lord is believed to be the form of Shiva and Vishnu, by Shaivites and Vaishnavas respectively.