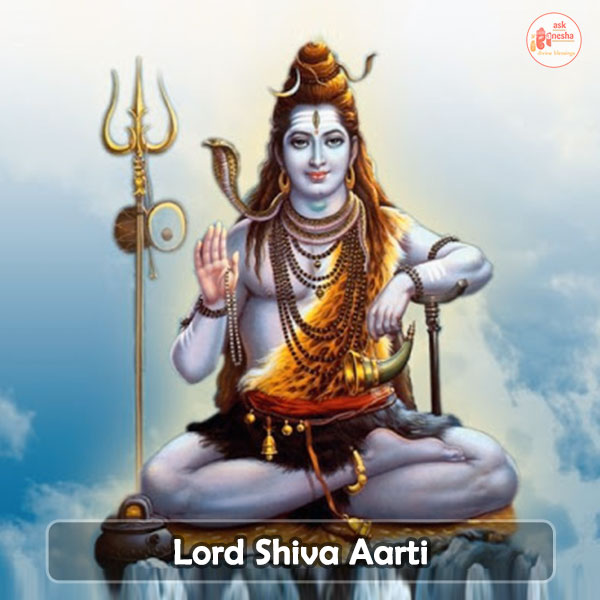 About Lord Shiva Aarti
Shiva is known as the Adiyogi. He is the avatar of Lord Vishnu himself. Lord Shiva appears in a meditating, contentedand calm posture. Lord has entangled hair through which the holy river of Ganges flowsand a crescent moon is fixed, a serpent is coiled around the Adiyogi's neck, a trident (Trishul) is held in one hand and ashes all over his body.
He is known as the god who grants the wishes easily. He is calm and peaceful until he finds something wrong. He has a destructive anger. He uses Bull named Nandi as his vehicle. The Hindu mythology represents the Bull as a symbol of strength and prosperity.
|| Aarti ||
Om jai Shiv Omkara, Om jai Shiv Omkara,
Bhramha, Vishnu, Sdashiva, adaghidhara ||

|| Om jai Shiv Omkara... ||

Ekanana, chaturanna, panchanaraje,
hansanan, gharurasna, vrishvahansaje ||

|| Om jai Shiv Omkara... ||

Do bhuj char chaturbhuj, das bhujatisohe,
teenorupanirakhta, trivubanjaanmohe ||

|| Om jai Shiv Omkara... ||

Akshamalavana-mala, rudra-mala dhari,
chandanmirgamaadsohe, bholeshubhkari ||

|| Om jai Shiv Omkara... ||

Shwetambar, pitambar, bhagambarange,
sankadik, bhramhadik, bhootadiksanghee ||

|| Om jai Shiv Omkara... ||

Kar Men Madhya Kamandalu Chakra Trishooldharta,
JagkartaDukhaharta, Jag Palankarta ||

|| Om jai Shiv Omkara... ||

Brahma, Vishnu, Sadashiv, JanatAviveka,
Pranvakshar Ke Madhye, Yah Tinon Eka ||

|| Om jai Shiv Omkara... ||

TrigunSwamiji Ki Aarti Jo Koi Nar Gave,
KahatShivanand Swami, Manvanchhit Phal Pave ||

|| Om jai Shiv Omkara... ||
|| Aarti in Hindi ||
ॐ जय शिव ओंकारा....,
एकानन चतुरानन पंचांनन राजे
हंसासंन ,गरुड़ासन ,वृषवाहन साजे


|| ॐ जय शिव ओंकारा.... ||

दो भुज चारु चतुर्भज दस भुज अति सोहें,
तीनों रुप निरखता त्रिभुवन जन मोहें ||

|| ॐ जय शिव ओंकारा... ||

अक्षमाला ,बनमाला ,रुण्ड़मालाधारी,
चंदन , मृदमग सोहें, भाले शशिधारी ||

|| ॐ जय शिव ओंकारा... ||

श्वेताम्बर,पीताम्बर, बाघाम्बर अंगें,
सनकादिक, ब्रम्हादिक ,भूतादिक संगें ||

|| ॐ जय शिव ओंकारा... ||

कर के मध्य कमड़ंल चक्र ,त्रिशूल धरता,
जगकर्ता, जगभर्ता, जगसंहारकर्ता ||

|| ॐ जय शिव ओंकारा... ||

ब्रम्हा विष्णु सदाशिव जानत अविवेका,
प्रवणाक्षर मध्यें ये तीनों एका ||

|| ॐ जय शिव ओंकारा... ||

काशी में विश्वनाथ विराजत नन्दी ब्रम्हचारी,
नित उठी भोग लगावत महिमा अति भारी ||

|| ॐ जय शिव ओंकारा... ||

त्रिगुण शिवजी की आरती जो कोई नर गावें,
कहत शिवानंद स्वामी मनवांछित फल पावें ||

|| ॐ जय शिव ओंकारा... ||

ॐ जय शिव ओंकारा....,
एकानन चतुरानन पंचांनन राजे
हंसासंन ,गरुड़ासन ,वृषवाहन साजे


|| ॐ जय शिव ओंकारा.... ||
Vidhi for Performing Aarti:
The requisites to proceed with the Aarti include flowers, bell, incense stick, dhoop batti, a copper lota, Diya along with oil and batti. Begin with lighting the diya in front of the goddess's idol or photo. Then light the incense sticks and begin the Aarti as you ring the bell continuously, followed by offering the flowers and rice to the lord. You can keep some fruits as the Prasad, to distribute after the Puja.
Benefits of Performing Lord Shiva Aarti:
Lord Shiva provides his devotees with immense benefits which make the individual's life calm and content. The lord helps the devotees to build a strong willpower and happiness. The Shiva's devotees call him Bhole Nath as he is easy to please and grants wishes quickly. The one who worships the lord is freed from the birth- rebirth cycle and is able to attain moksha. The lord helps the unmarried girls to get married timely. A true devotee of lord shall never face any obstacles in life.