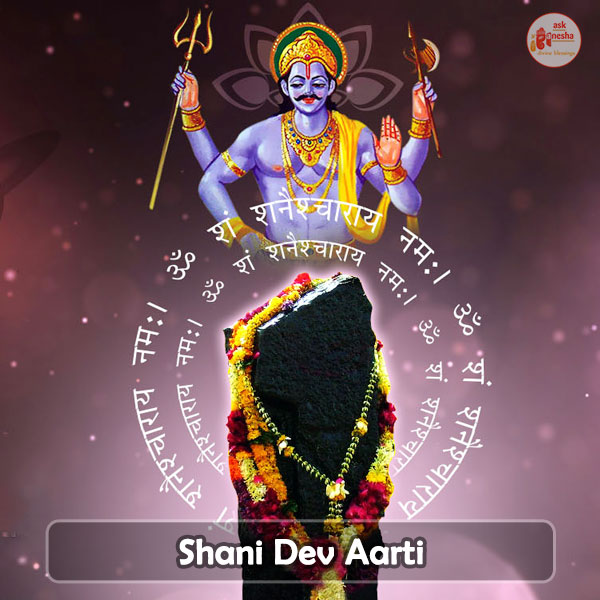 About Shani Dev Aarti
Saturn or Shani, the son of Surya and Chhaya is also known as eeshwar, i.e, the Supreme. Saturn can make a person a king or a beggar according to the native's karmas. A prayer to the lord of karma will alleviate the hardships that have put you to bad times. A person who sincerely prays to Shani (Saturn) is blessed not only with eradication of the problems and worries, but a life that one desires. Also, those who are under the Saturn dasha or antar dasha or Sade Sati of Shani and have a malefic Shani should certainly perform the Shani Aarti.
Shani is considered to be a malefic planet. Shani (Saturn) is a controller of longevity, misery, sorrow, old age and death, discipline, restriction, responsibility, delays, ambition, leadership and authority, humility, integrity, wisdom born of experience. Saturn is regarded to be both a giver as well as destroyer. It gives and takes, both in extremes.
|| Aarti ||
Jay Jay Shri Shanidev Bhaktan Hitakaari,
Sooraj Ke Putra Prabhu Chaaya Mahataari ||

|| Jay Jay Shri Shanidev Bhaktan Hitakaari ||

Shyaam Ank Vakra Drasht Chaturbhujaa Dhaari,
Nilaambar Dhaar Naath Gaj Ki Asavaari ||

|| Jay Jay Shri Shanidev Bhaktan Hitakaari ||

Kirit Mukut Shish Sahaj Dipat Hai Lilaari,
Muktan Ki Maal Gale Shobhit Balihaari ||

|| Jay Jay Shri Shanidev Bhaktan Hitakaari ||

Modak Mishtaan Paan Chadhat Hai Supaari,
Lohaa Til Tel Udad Mahishi Ati Pyaari ||

|| Jay Jay Shri Shanidev Bhaktan Hitakaari ||

Dev Danuj Rishi Muni Surat Nar Naari,
Vishvanaath Dharat Dhyaan Sharan Hai Tumhaari ||

|| Jay Jay Shri Shanidev Bhaktan Hitakaari ||
|| Aarti in Hindi ||
जय जय श्री शनिदेव भक्तन हितकारी,
सूरज के पुत्र प्रभु छाया महतारी ||

|| जय जय श्री शनिदेव.... ||

श्याम अंक वक्र दृष्ट चतुर्भुजा धारी,
नीलाम्बर धार नाथ गज की असवारी ||

|| जय जय श्री शनिदेव.... ||

क्रीट मुकुट शीश रजित दिपत है लिलारी,
मुक्तन की माला गले शोभित बलिहारी ||

|| जय जय श्री शनिदेव.... ||

मोदक मिष्ठान पान चढ़त हैं सुपारी,
लोहा तिल तेल उड़द महिषी अति प्यारी ||

|| जय जय श्री शनिदेव.... ||

देव दनुज ऋषि मुनि सुमरिन नर नारी,
विश्वनाथ धरत ध्यान शरण हैं तुम्हारी ||

|| जय जय श्री शनिदेव.... ||
Vidhi for Performing Aarti:
The offerings that must be arranged before the Aarti begin, include roli Akshat, uncooked rice, Puja ki Thali, Flowers, Dhoop Batti, Incense stick, Photo or Idol of Lord Shani. A black cloth, Aasan, black Urad Dal, Supari, Coriander seeds, iron nails, Lotus Flower Seeds, oil, some sweets as Prasad. Begin with lighting the diya in front of the god's idol. Then light the incense sticks and begin the Aarti as you ring the bell continuously, followed by offering the flowers and rice to the lord. You can keep some fruits as the Prasad, to distribute after the Puja.
Benefits of Performing Shani Dev Aarti:
The Shani is an extremely strong planet, worshiping the planet during its dasha kills its malefic effects. The Shani puja done otherwise is also quite beneficial. It is the planet of extremes, Saturn is a planet that makes its native work hard and also makes them learn the lessons hard way. Nothing comes easily to a person is under the influence of Shani. Shani is a planet that serves you exactly what you deserve. The fruits of your Karma served to you. The planet, if beneficial can show you the best days of your life vice versa.