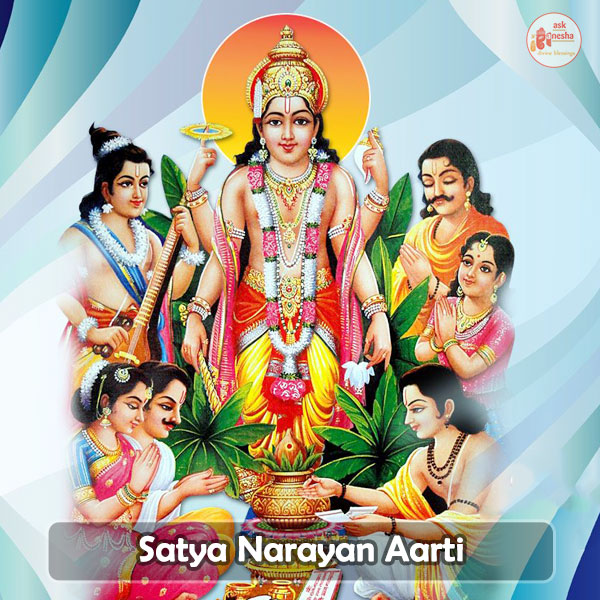 About Satya Narayan Aarti
The deity worshiped in the Satyanarayan Puja is Lord Vishnu. Lord Vishnu can easily be described as the most important lord of the Hindu Trinity. Look to north India and you have Meera, the woman saint singing soulfully to her lord. She invokes Vishnu by the name of Hari. O Hari, the remover of all sorrow, come bless me, she sings. In South India there is Andal, who sings the thirupavai again in praise of Lord Vishnu as Narayana.
|| Aarti ||
Jai Lakshmi Ramana Swami Jai Lakshmi Ramana,
Satyanarayan Swami Jan Patak Harana ||

|| Jai Lakshmi Ramana ||

Ratan Ja Rat Singhasan Adhbut Chabee Rajey,
Narad Kahat Niranjan Ghanta dhun bhajey ||

|| Jai Lakshmi Ramana ||

Praghat Bhaye Kali Karan Dwaj Ko Daras Diyo,
Budha Brahman Bankey Kanchan Mahal Kiyo ||

|| Jai Lakshmi Ramana ||

Durbal Bhil Kathier Jan Par Kripa Karey,
Chandra Choor Ik Raja Jinaki Vipat Hari ||

|| Jai Lakshmi Ramana ||

Vashey Manorath Payo Shradha tuj Dini,
So Fal Bhogyo Prabhji phir Sutati Kini ||

|| Jai Lakshmi Ramana ||

Bhav Bhagti Ke Karan Chhin Chhin Roop Dharyo
Shardha Dharan Kini Tin Kay Karj Saryo ||

|| Jai Lakshmi Ramana ||

Gwal Bal Sang Raja Ban Mein Bhakti Karey
ManVanchit Fal Dina Deen Dayal Hari ||

|| Jai Lakshmi Ramana ||

Charhat Prasad Sawayo Kadali Fal Mewa
Doop Dheep Tulsi Se Raje Sat Deva ||

|| Jai Lakshmi Ramana ||

Shri Satya Narayan Ji Ki Aarti jo koi gaavey
Kahat Shianand Swami ManVanchit Fal Paavey ||

|| Jai Lakshmi Ramana ||
|| Aarti in Hindi ||
जय लक्ष्मी रमणा, स्वामी जय लक्ष्मी रमणा,
सत्यनारायण स्वामी, जन पातक हरणा ||

|| स्वामी जय लक्ष्मी रमणा ||

रतन जड़ित सिंहासन, अदभुत छवि राजे,
नारद करत नीराजन, घंटा वन बाजे ||

|| स्वामी जय लक्ष्मी रमणा ||

प्रकट भए कलिकारण, द्विज को दरस दियो,
बूढ़ो ब्राह्मण बनकर, कंचन महल कियो ||

|| स्वामी जय लक्ष्मी रमणा ||

दुर्बल भील कठोरो, जिन पर कृपा करी,
चंद्रचूड़ एक राजा, तिनकी विपत्ति हरि ||

|| स्वामी जय लक्ष्मी रमणा ||

वैश्य मनोरथ पायो, श्रद्धा तज दीन्ही ,
सो फल भाग्यो प्रभुजी, फिर स्तुति किन्ही ||

|| स्वामी जय लक्ष्मी रमणा ||

भव भक्ति के कारण, छिन-छिन रूप धरयो ,
श्रद्धा धारण किन्ही, तिनको काज सरो ||

|| स्वामी जय लक्ष्मी रमणा ||

ग्वाल-बाल संग राजा, बन में भक्ति करी ,
मनवांछित फल दीन्हो, दीन दयालु हरि ||

|| स्वामी जय लक्ष्मी रमणा ||

चढत प्रसाद सवायो, कदली फल मेवा ,
धूप-दीप-तुलसी से, राजी सत्यदेवा ||

|| स्वामी जय लक्ष्मी रमणा ||

सत्यनारायणजी की आरती जो कोई नर गावे ,
ऋषि-सिद्ध सुख-संपत्ति सहज रूप पावे ||

|| स्वामी जय लक्ष्मी रमणा ||
Vidhi for Performing Aarti:
The things required to conduct the Aarti include: flowers, bell, incense stick, dhoop batti, a copper lota, Diya along with oil and batti. Begin with lighting the diya in front of the goddess's idol. Then light the incense sticks and begin the Aarti as you ring the bell continuously, followed by offering the flowers and rice to the lord. You can keep some fruits as the Prasad, to distribute after the Puja.
A fast must be observed to appease the lord. You can perform the Aarti in the temple or your house and later on offer food to Brahmins.
Benefits of Performing Satya Narayan Aarti:
The Lord Vishnu is the creator of the world. Everything that exists is created by him. The Vishnu aarti helps the devotees to attain a long and hassle free life. A person who conducts the Vishnu puja and performs the Aarti is capable of attaining Moksha and salvation in the after-life. God smoothens the life of his devotees by providing them with mental and physical relief and a happy and harmonious life.