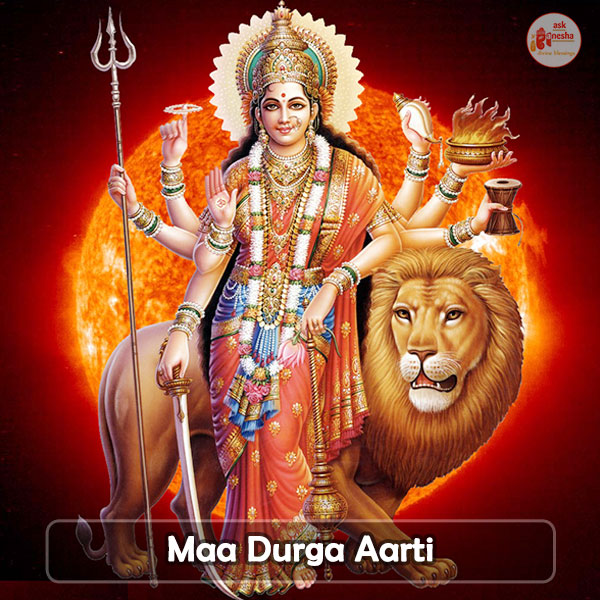 About Maa Durga Aarti
Maa Durga is the form of Shakti that is utmost difficult to reach. In Hindu Mythology goddess Durga is believed to ride lion and is excessively powerful and fierce. She protects and fights the evil for the protection of her devotees. She can destroy the evil to preserve the creation, she can leave everyone startled when she stands against the wrong. Maa Durga is ultimate source of energy and power.
|| Aarti ||
Jai ambe gauri, mayya jai shyama gauri,
Tumko nish-din dhyavat, hari brahma shivji ||

|| Jai ambe gauri... ||

Maang sindoor virajat, tiko mrig-mad ko,
Ujjwal se dou naina, chandra vadan niko ||

|| Jai ambe gauri... ||

Kanak samaan kalewar, raktaambar raaje,
Rakt pushp gal-mala, kanthan par saaje ||

|| Jai ambe gauri... ||

Kehri vahan rajat, kharag khapar dhaari,
Sur nar muni jan sevat, tinke dukh haari ||

|| Jai ambe gauri... ||

Kanan kundal shobhit, naas-agre moti,
Kotik chandra divakar, sum rajat jyoti ||

|| Jai ambe gauri... ||

Shumbh ni-shumbh vidare, mahisha sur ghati,
Dhumra-vilochan naina, nish-din- mad mati ||

|| Jai ambe gauri... ||

Chandh mundh sangh-haare, shonit beej hare,
Madhu kaitabh dou maare, sur bhe heen kare ||

|| Jai ambe gauri... ||

Brahmani rudrani, tum kamla rani,
Aagam nigam bakhani, tum shiv patrani ||

|| Jai ambe gauri... ||

Chon-sath yogini gavat, nritya karat bhairon,
Baajat taal mridanga, aur baajat damaroomaroo ||

|| Jai ambe gauri... ||

Tum ho jag ki maata, tum hi ho bharta,
Bhakto ki dukh harata, sukh sampati karata ||

|| Jai ambe gauri... ||

Bhuja chaar ati shobit, var mudra dhaari,
Man vaanchit phal pavat, sevat nar naari ||

|| Jai ambe gauri... ||

Kanchan thaal virajat, agar kapoor baati,
Shri maal-ketu me rajat, kotik ratan jyoti ||

|| Jai ambe gauri... ||

Shri ambe-ji-ki aaarti, jo koi nar gaave,
Kahat shivanand swami, sukh sampati paave ||

|| Jai ambe gauri... ||
|| Aarti in Hindi ||
जय अम्बे गौरी, मैया जय श्यामा गौरी,
तुमको निशि दिन ध्यावत, हरि ब्रह्मा शिवरी ||

|| जय अम्बे गौरी, मैया जय... ||

मांग सिंदूर विराजत, टीको मृगमद को,
उज्ज्वल से दोउ नैना, चन्द्रवदन नीको ||

|| जय अम्बे गौरी, मैया जय... ||

कनक समान कलेवर, रक्ताम्बर राजै,
रक्तपुष्प गल माला, कंठन पार साजै ||

|| जय अम्बे गौरी, मैया जय... ||

केहरि वाहन राजत, खडूग खप्पर धारी,
सुर - नर मुनिजन सेवत, तिनके दुखहारी ||

|| जय अम्बे गौरी, मैया जय... ||

कानन कुण्डल शोभित, नासाग्रे मोती,
कोटिक चन्द्र दिवाकर, राजत सम ज्योति ||

|| जय अम्बे गौरी, मैया जय... ||

शुम्भ निशुम्भ विदारे, महिषासुर घाती,
धूम्र विलोचन नैना, निशदिन मतमाती ||

|| जय अम्बे गौरी, मैया जय... ||

चण्ड - मुण्ड संहारे, शौणित बीज हरे,
मधु - कैटभ दोउ मारे, सुर भयहीन करे ||

|| जय अम्बे गौरी, मैया जय... ||

ब्रह्माणी, रुद्राणी, तुम कमला रानी,
आगम निगम बखानी, तुम शिव पटरानी ||

|| जय अम्बे गौरी, मैया जय... ||

चौंसठ योगिनी गावत, नृत्य करत भैरु,
बाजत ताल मृदंगा, अरु बाजत डमरू ||

|| जय अम्बे गौरी, मैया जय... ||

तुम ही जग की माता, तुम ही हो भरता,
भक्तन की दुःख हरता, सुख सम्पत्ति करता ||

|| जय अम्बे गौरी, मैया जय... ||

भुजा चार अति शोभित, वरमुद्रा धारी,
मनवांछित फल पावत, सेवत नर नारी ||

|| जय अम्बे गौरी, मैया जय... ||

कंचन थाल विराजत, अगर कपूर बाती,
श्रीमालकेतु में राजत, कोटि रतन ज्योति ||

|| जय अम्बे गौरी, मैया जय... ||

अम्बे जी की आरती, जो कोई नर गावे,
कहत शिवानन्द स्वामी, सुख - सम्पत्ति पावे ||

|| जय अम्बे गौरी, मैया जय... ||
Vidhi for Performing Maa Drurga Aarti:
The requisites to proceed with the Aarti include flowers, bell, incense stick, uncooked rice, a copper lota, Diya along with oil and batti. Begin with lighting the diya in front of the goddess's idol. Then light the incense sticks and begin the Aarti as you ring the bell continuously, followed by offering the flowers and rice to the lord. You can keep some fruits as the Prasad, to distribute after the Puja.
Benefits of Performing Goddess Durga Aarti:
The devotees who worship the goddess with full concentration are able to escape the cycle of birth and death ie. Attain Moksha. The one who worships the goddess achieves a strong will power and is gradually able to gain control over their mind..