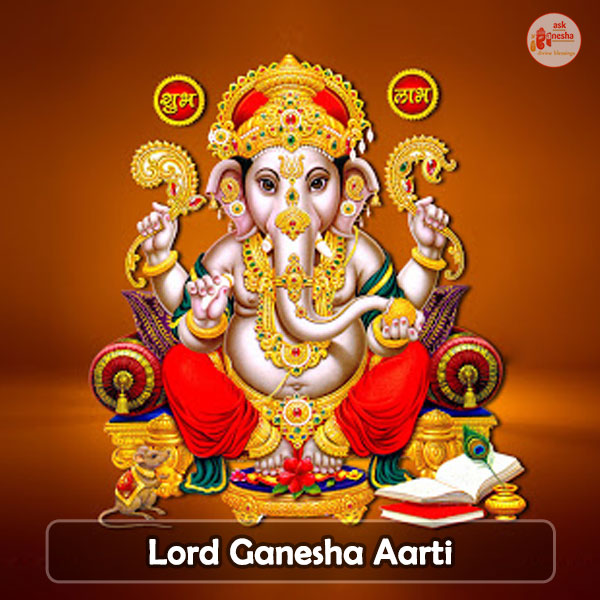 About Lord Ganesha Aarti
Also known as Ganapati, Lord Ganesha is the son of Lord Shiva and Goddess Parvati. He is popular amongst kids and is also referred to as the chid God. With an Elephant's head and a pot shaped bely, he is considered to be the cutest of all Gods and is worshiped before any other god.
|| Aarti ||
Jai Ganesh Jai Ganesh Jai Ganesh Deva,
Mata Jaki Parvati, Pita Mahadeva ॥ x2

Ekadanta Dayavanta, Char Bhujadhaari,
Mathe Par Tilak Sohe, Muse Ki Savari ॥ x2

Paan Charhe, Phool Charhe Aur Charhe Meva,
Ladduan Ka Bhog Lage, Sant Karein Seva ॥ x2

|| Jai Ganesh Jai ||

Andhe Ko Aankh Deta, Korhina Ko Kaya,
Baanjhana Ko Putra Deta, Nirdhana Ko Maya ॥ x2

'Soora' Shyama Sharana Aaye, Saphal Kije Seva,
Mata Jaki Parvati, Pita Mahadeva ॥ x2

|| Jai Ganesh Jai ||
|| Aarti in Hindi ||
जय गणेश जय गणेश जय गणेश देवा,
माता जाकी पार्वती पिता महादेवा

|| जय गणेश जय ||

एक दंत दयावंत चार भुजा धारी,
माथे सिंदूर सोहे मूसे की सवारी

|| जय गणेश जय ||

अंधन को आंख देत, कोढ़िन को काया,
बांझन को पुत्र देत, निर्धन को माया

|| जय गणेश जय ||

पान चढ़े फल चढ़े और चढ़े मेवा,
लड्डुअन का भोग लगे संत करें सेवा

|| जय गणेश जय ||

'सूर' श्याम शरण आए सफल कीजे सेवा,
जय गणेश जय गणेश जय गणेश देवा

|| जय गणेश जय ||
Vidhi for Performing Lord Ganesha Aarti
The vidhi to conduct the Aarti includes some ingredients that are required to proceed with the Aarti include- flowers, bell, incense stick, uncooked rice, dhoopbatti, a copper lota, Diya along with ghee and batti and Ladoo as Prashad. Ladoo (Modak) is Lord Ganesha's favourite sweet. The Aarti is followed by lighting up the diya with desi ghee and batti. Together everyone sings the Aarti and offers the flowers and rice to the lord. At the end Ladoo (Modak) is offered to the lord and then distributed amongst everyone else.
Benefits of Performing Ganpati Aarti
Lord Ganesha is boon to be worshiped before any other God. The Aarti of lord Ganesh bestows the devotees with wisdom and knowledge. The little lord clears the obstacles in his devotee's path and blesses them with the ability to take concrete decisions. Being the child of Lord Shiva and Parvati he is blessed with calmness and good relations.